Frequently asked questions.
Here are some of the most common questions we get on a daily basis. 
Q. What is your phone number? 
A. We are out on service calls during the day and do not take calls. Send us an email and we will respond. We have tried booking and communication by phone and were not satisfied with the results. 
Q. What do you service? 
A. Gas powered lawnmowers. In the past we have serviced all sorts of lawn and garden equipment. After 5 years of service, we have decided to focus on lawnmowers.  As of Sept 2018 we have changed our business model and now service residential gas powered lawnmowers only. 
Q. What method of payment do you accept? 
A. Cash, Interac E- transfer (email money transfer) 
Q. Where are you located? 
A. We do not have a shop or drop off location. Our service is mobile only. 
Q. How long does the service take? 
A. A lawnmower tune up usually takes about 25 - 35 minutes.
Q.Do you do blade sharpening? 
A. Blade sharpening is included in our tune up service. If your blade is dull you probably require a tune up. We do not book service calls to sharpen blades as it is not economical. 
Q. What is your $60 minimum fee?
A. This is NOT an additional charge. As we are a mobile service, we do not travel to a service call for less than $60. The prices you see in the pricing section are exactly as stated.
Need Help locating your model number?
Lawnmowers
Most lawnmowers will have an ID sticker located behind the engine between the rear wheels. The odd time it is not there you should find it on one side or the other.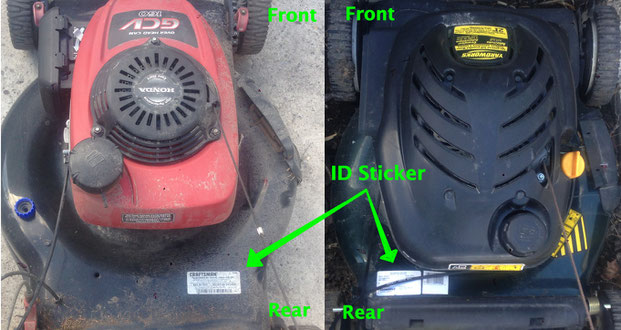 Google is your friend! 
Though we would never suggest using Google as a cure all, or that one should trust the information found without doing some lengthy research, it is a great place to find information on where to locate your model and serial number.
Also, many manufacturers  have information on how to find your model and serial number on their websites.